Gregarios Superclub Ciclista
The cycling club for London
We're a London cycling club, covering inner London, North and West London, Middlesex, Herts, Watford, Rickmansworth, Bushey, Radlett, The Chilterns and beyond.
Welcoming, friendly and encouraging, no one gets left behind.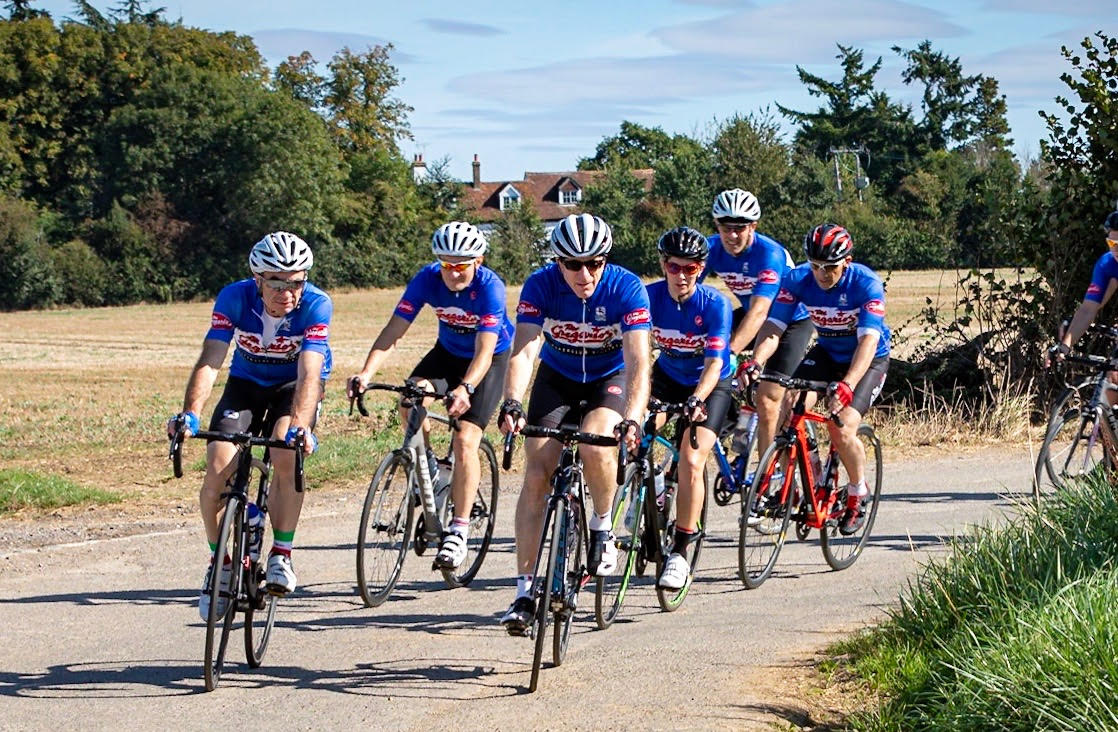 The Gregarios Superclub Ciclista is all about the love of road cycling.

You'll find us informal, welcoming, friendly, and encouraging - and no one gets left behind. We have fast access to great countryside, and members from all over the London area, inner London, Middlesex, Herts, Watford, Rickmansworth, Bushey, Radlett, and beyond.
Join us for a fantastic club ride every Sunday from the former Telephone Exchange in Hatch End (Uxbridge Road close to Costa Coffee), two mid-week rides from Sarratt, a short cafe ride on some Saturdays, and lots more. If you enjoy a challenge we love Sportives, and have an expanding race team. We can also help you develop into a better cyclist with lots of tips on technique.
So, what are you waiting for - come and join the fun!
Welcome to The Gregarios Superclub Ciclista!
Friendly
With over 80 members our approach is friendly, relaxed, and informal. We're not the biggest cycling club in London, and that's how we like it because everyone knows each other, and there are no cliques.
Fun
With one of the biggest rider turnouts in West London our Sunday Club Rides are about camaraderie and fun. We'll take you to some of the best cycling cafe stops and best routes in the area, and we can help you develop as a cyclist with lots of help and guidance on bike technique.
Tempo - Forza
So... if riding with friendly like-minded people and discovering lots of new routes sounds good, then here we are! We run two groups, 'Gruppo Tempo" and "Gruppo Forza" catering for different levels.

*Average speeds "Tempo" 14.0-16.5 mph / "Forza" 16-19 mph.
Sundays:
The main club ride is from the former Telephone Exchange, Uxbridge Road, Hatch End next to Sea Pebbles (meet 9.15 leave 9.30am). We have a wide variety of destinations, and the rides are published on our Facebook page.
"The Little Chalfont Cafe Shuffle" A short easy pace Morning Ride with cafe stop. 9.30am also from the former Telephone Exchange. First Sunday in the month in the winter. Weekly in summer. Check our Facebook Page as times can change
www.facebook.com/GregariosSC
Two popular Member only rides from Sarratt for the "mid-week professionals".
Thursday evening:
Harrow on the Hill Training night. Members only.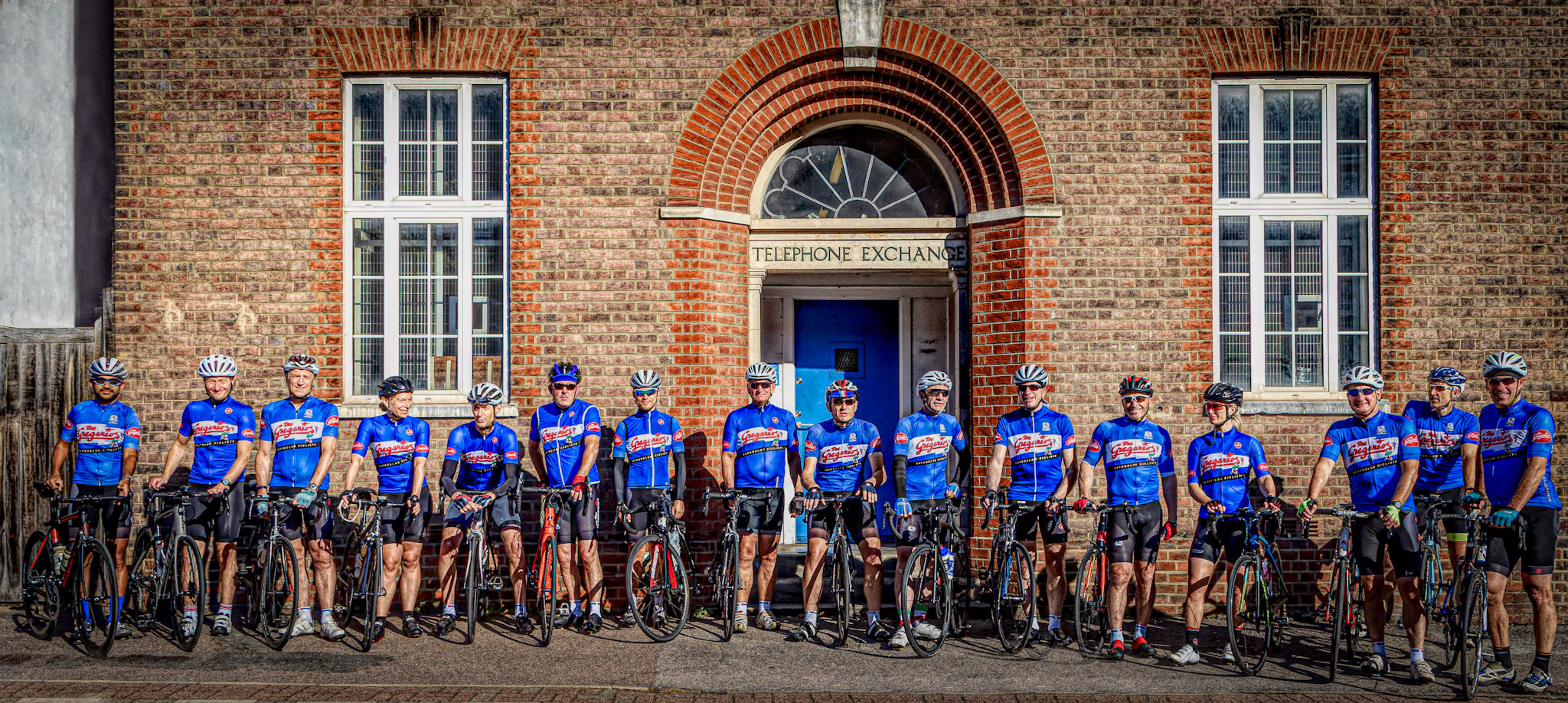 Location:
If you live further from our location (
map
) it gives you a fantastic "jumping off spot" to the best country lanes of Hertfordshire, Bucks, Oxon, Berkshire, and even deepest darkest Essex.
You can choose an easy journey by Train or Tube to our start, so that you hit the country sooner and without miles of riding through sprawling inner suburbs.
Train: Overground from Euston (stops at Kilburn, Queens Park, Wembley) delivers you to Hatch End in just over 30 minutes.
Nearby Tube: Edgware (Northern Line), Stanmore (Jubilee), Harrow & Wealdstone (Bakerloo), Pinner (Metropolitan)
New Members:

We're always happy to welcome new prospective members. If you're new to group riding we would suggest that you join us on a Saturday "Little Chalfont Cafe Shuffle", a relaxing 30/35 miler with a great coffee or brunch stop at KoHo Coffee.
If you have some experience of group riding, and are comfortable with 50/60m+ join us on a Sunday ride. Either way please drop us an email first: info@gregarios.co.uk
Style:
On the road The Blue Train is an inspiring sight! Our distinctive team blue or "azzurro" is the exact shade of the Italian road team jersey of the year when we formed. Our pro-team quality kit design is exclusive to the Gregarios and available at well below store prices. The Italian national cycling team always wear blue - and so do the Gregarios, naturally!
Sportives:
We love 'em (a sportive is to cyclists what a marathon is to runners).
Our riders have recently participated in:
Ride London, Dragon Ride, Tour of Cambridge GF, Tour of the Surrey Hills, Chiltern 100, Tour of The Peaks, L'etape du Tour (France), La Marmotte (France), Maratone di Dolomiti (Italy), Nove Colli (Italy)Tour of Flanders (Belgium), Liege-Bastogne-Liege (Belgium) and many more.
Audax events:
(a low-cost Sportive type ride)
Racing:
Road, track, TT., and cyclo-cross.
Trips Abroad: Tuscany, The Alps, etc.
Training:
On-the-road-guidance to help you develop into an accomplished rider.